Mt. Pleasant, A.R. Burnam House and Lynwood Estate On Tour
PLEASE NOTE: REGISTRATION IS CLOSED for the Historic Tour of Homes on Dec. 12, 2021. We appreciate the very high level of interest in the historic tour and we are so excited to share the history with our community!! Given the overwhelming interest we are planning another tour sometime in late Feb. 2022! If you would like to pre-register for that event, visit https://elderlawguidance.com/event-calendar. Details to follow.
December 6, 2021, Richmond – For the first time, three Richmond homes, each on the National Historic Registry, Mt. Pleasant, A.R. Burnam House and Lynwood Estate, will all be on one tour this Sunday, December 12th, from 2:30pm-4:30pm. UPDATE: Due to an overwhelming response, registration for tour timeslots is now required, with timeslots at 2:30pm, 3:00pm, 3:30pm, and 4:00pm, with 15 people per tour for a maximum of sixty guests. Register at (859) 544-6012 and ask for Jessica.
The event includes an in-depth tour of each historic home by one of the local gentlemen who have worked to renovate and preserve the homes. Light refreshments will be served, and the event is free and open to the public. Donations are appreciated and will go to the Mt. Pleasant Historic Preservation Project. Masks are required indoors.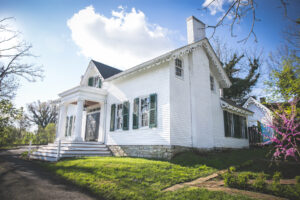 "As a business owner, I enjoy partnering with other like-minded local leaders to focus on historic preservation," said Scott Collins, who owns A.R. Burnam House and has worked with Dr. Fred Brammell to renovate and preserve Mt. Pleasant. "We are excited to be able to share these beautiful historic homes with our community."
The tour begins at 2:30pm at Mt. Pleasant, 291 S. Second St., with Dr. Fred Brammell, who began rescuing the house in 2013. Mt. Pleasant (circa 1826) is the oldest Gothic Revival style house in Madison County and its original builder George Brown's estate was instrumental in many important undertakings from women's education to Civil War history during the Battle of Richmond.
Next will be the A.R. Burnam House at 815 W. Main St., guided by Collins, and featuring light refreshments. It was built in 1880 and is on the National Historic Registry both for its architectural and its historic importance. Mr. Burnam was an attorney, president of two local banks, a Kentucky Senator, and Chief Justice of the Kentucky Court of Appeals.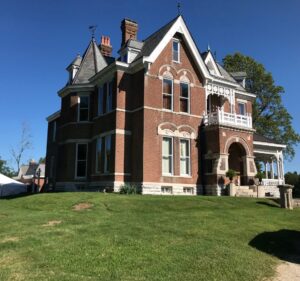 The final stop will be the Queen Anne style mansion on Lynwood Estate at 1615 Lexington Rd., which was a gift from Pattie Field Clay to her husband Brutus J. Clay II in 1880. Lynwood is one of four homes in the area built by Samuel E. Des Jardins, a French Canadian architect. The property is now owned by Bryan and Melissa Tipton who have lovingly restored and enhanced the estate over the past five years. Owner Bryan Tipton will give the guided tour.
Attendees can park at the Madison Middle School lot for the start of the tour. Directions will be from the first house for the next two. For more information, please call (859) 893-3898.